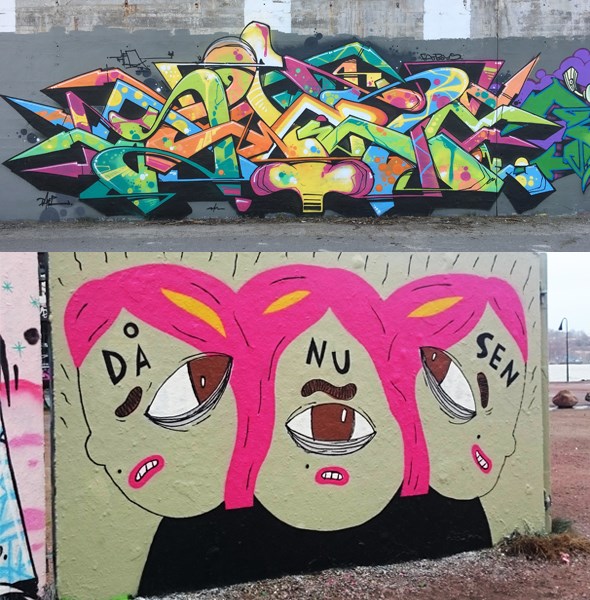 Upcoming exhibition: Style Diversity
2019, 3 march - 12 may. Paintings.
Grupputställning med urbant måleri i storformat.
Street Art, eller gatukonst, är en mängd olika konstnärliga uttryck skapade för gatumiljö. Det kan vara gigantiska målningar, klassisk graffiti med ord, virkning på stolpar, klistermärken, mosaiker mm.
Denna utställning fokuserar på gatans måleri. Vi har bjudit in 9 konstnärer som bland annat skapar målningar med sprayfärg. Utställningen heter "Mångstilat" och speglar den mångfald av stilar som existerar i gatukonsten. Några av de utställande konstnärerna kommer från den klassiska graffitikulturen och ägnar sig åt att måla ordbilder, medan andra har sin bakgrund i serietecknar- och illustrationsvärlden, och arbetar föreställande. Flera har konstnärlig utbildning. Gemensamt för dem alla, är att de på ett skickligt och slagkraftigt sätt uttrycker sig visuellt.
Att måla i stadsmiljö innebär att göra ett personligt avtryck och förhålla sig till den omkringliggande miljön. Målningarna syns ofta på långt håll och sticker ut. Att kunna skapa så stora bilder kräver planering, teknisk skicklighet, god fysik och koordination. Inte sällan är budskap, humor och underfundighet viktiga ingredienser.
I gatukonstens natur ligger att den ständigt förändras. Många bilder existerar bara en kort period, för att sedan målas över av någon annan gatukonstnär. När gatans måleri flyttar in i en konsthall, förändras därför förutsättningarna och sammanhanget radikalt. Istället för att måla på en vägg har konstnärerna arbetat på duk som sedan spänts upp.
Förutom stora målningar visar utställningen även ett antal mindre verk, dokumentation samt ett filmverk.
Deltagande konstnärer:
Bless
Robbin "Leon" Carlzon
Lisa Ewald
Gustav "Unir1" Norberg
Waffle
Jonas "Pike"
Limpo Rocha
Max Solca
SWET
Film: Dancing animation/Mia Hulterstam och Cecilia Actis
Group show
Street Art is a variety of different modes of artistic expression created for the street environment. It could be enormous paintings, classic graffiti using words, crochet on posts, stickers, mosaics and more.
This exhibition focusses on street painting. We have invited in 9 artists who create paintings with spray-paint. The exhibition is called "Style Diversity" and reflects the diversity of styles which exist in Street Art. Some of the exhibiting artists have roots in classic graffiti culture and devote themselves to painting word pictures, while others have a background in animation and the world of illustration, and work imaginatively. Several have an artistic education. Common ground for them all is that they express themselves visually both skilfully and powerfully.
Painting in an urban environment requires making a personal impression and to relate to the surrounding environment. The paintings are often seen from afar and make an impact. To be able to create such large pictures requires planning, technical skills, fitness and co-ordination. More often than not, news, humour and slyness are important ingredients.
It is the very nature of Street Art that it should be constantly changing. Many pictures exist for only a short period, after which they are painted over by some other street artist. When the art of the streets moves into an art gallery, it radically changes conditions and context. Instead of painting onto a wall the artists have worked on cloth which has then been stretched and hung.
In addition to large paintings the exhibition also shows a number of smaller works, documents and a film.
Participating artists:
Bless
Robbin "Leon" Carlzon
Lisa Ewald
Gustav "Unir1" Norberg
Waffle
Jonas "Pike"
Limpo Rocha
Max Solca
SWET
Film: Dancing animation/Mia Hulterstam and Cecilia Actis