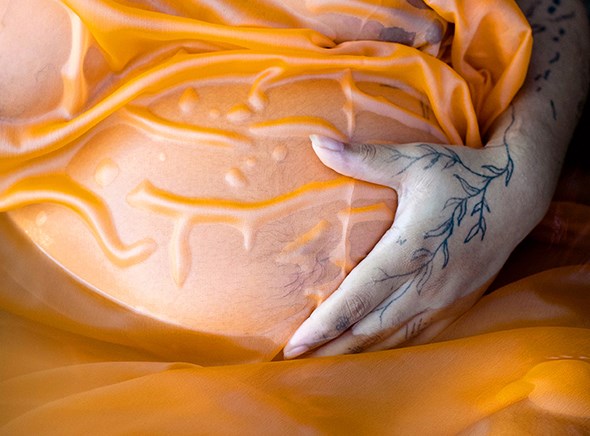 Upcoming exhibition: LA MER
LA MER
Östra Grevies andraårselever på Konst & Design har på olika sätt förhållit sig till havet i denna utställning. Vatten är förutsättningen för liv på jorden. Allt liv började i havet för fyra miljarder år sedan. Under denna väldiga tidsrymd har vi människor endast funnits ett kort ögonblick. Liksom livet själv först började i havet, så börjar människans liv i det inre hav som livmoderns fostervätska utgör.
Utställningens titel hav på franska (la mer), uttalas likadant som det franska ordet för modern (la mère). Denna ordlek leder tanken till en dubbel betydelse. Havet är samtidigt en symbol för ursprung - en urmoder - och det okända. Något som är dolt under ytan och som både kan locka och skrämma. Det djupa havet rymmer det okända bortom vår föreställningsförmåga och är till stor del fortfarande outforskat.
Havets vida horisont kan få oss att vilja ge oss av och att drömma oss bort. Men den kan även få oss att längta hem, att återvända. Verken i utställningen kretsar kring livet, tiden, vattnet, rörelsen och människans komplexa förhållande till sig själv och naturen.
LA MER
In this exhibition, the second-year students of Art and Design at Östra Grevie High School have each related to the sea in their own way. Water is a requirement for life on Earth. All forms of life began in the sea four billion years ago. We humans have only existed for a few moments in this vast period of time. Just as life itself began in the sea, so human life begins in the safe haven that is provided by the womb's amniotic fluid.
The title of the exhibition in French (la mer), is pronounced in the same way as the French word for mother (la mère). This play on words leads our thoughts to a double meaning. The sea is simultaneously a symbol for origin – a first mother – and for the unknown. Something which is hidden beneath the surface and which can both attract and scare. The deep sea holds the unknown beyond our comprehension and is still largely unexplored.
The sea's wide horizons may make us want to travel and daydream. The sea can also make us yearn for home, to return. The works in the exhibition orbit around life, time, water, movement and humanity's complex relationships to itself and to nature.